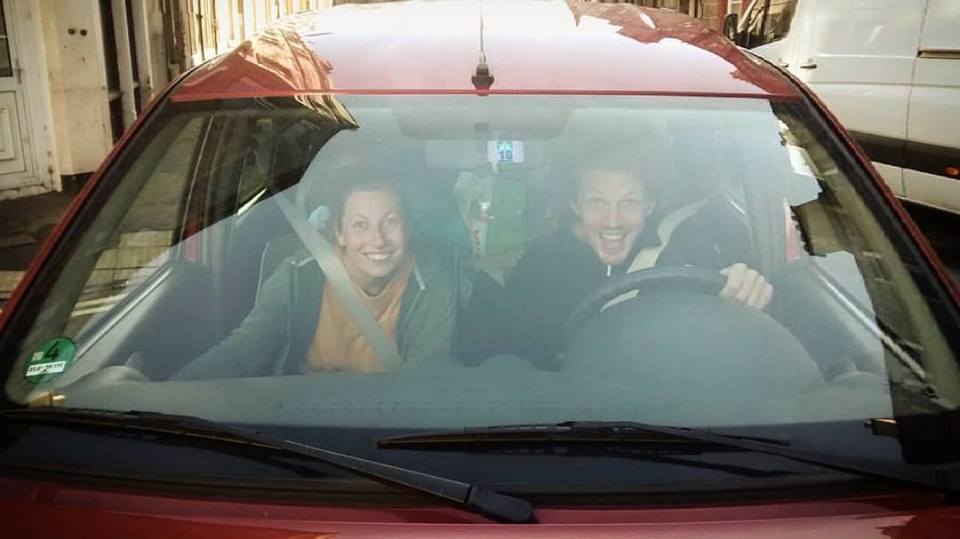 What we've been up to in the last year.
Posted on
October 26, 2016
Happy Autumn everyone (in the northern hemisphere),
   This is Jaron writing. As mentionend in our latest, and actually only second ever, Newsletter (if you haven't read it yet you better quickly sign up 😉 ) we are currently working on making this virtual experience much more interesting for anyone bothered about what we do as 'Archer & Tripp'.  As I am currently changing my view on blog posts, newsletters and all these fancy little online toys, from  a marketing tool more towards a really nice outlet of thoughts and information, I will try to keep up writing about interesting things in an interesting way.
So, since I have a very neat and enclosing approach towards a lot of things, I felt the urge to first summarise this last year and offer an overview of what we were up to.
  End of July 2015 we arrived in England, after literally surrounding this planet with adventures in Australia, Indonesia, Thailand and the USA. During these travels we had amazing times, incredible coincidences, beautiful encounters, horrific spider incidents, as well as boring and annoying days. We saw stunning landscapes, dirty citys and wonderful ways of humans living with nature, combining the ease of technology with a rural and simple life. We made friends for a lifetime and experienced so much hospitality and kindness, support and love that sometimes 'thank you' seems to be such an unsatisfying phrase, but finally are the only two words you're able to bring out… So we came back to Europe's Summer 2015 with a lot of gratitude for life, feeling privileged to live how we do it, and our hearts full of love and sympathy.
   We played Album Release Concerts in England and Germany for our first duo Album, which we had recorded in Australia in April (big thanks and kudos to Jeremy Diffey at his Grooveboy Studio). After then bathing in the wonderfulness of people from all over the globe at Hangout UK,  we ventured around England and Wales for a little while before flying to Helsinki for a special project, that still is going to be released, and which we are very excited about. Since it was the first time to Finland for both of us, we realised how much there is to explore even within Europe… We were again treated with heartfelt hospitality (thank you Zoltan!) and really enjoyed our time in this country with one of the weirdest languages ever! (honestly, ask a finn for the spoken translation of wind, fire and customs) Oh and bare in mind that this is a German person typing here 😀
When back at London Stansted Airport, we found our car with a flat tire and after the first

shock and some tantrums of mine a nice AA guy inflated it so that we could get to an unkown hosts place where our friend Paddy was waiting to join us for the ride to Switzerland on the next day. Next morning comes, tire flat again and we have to catch a ferry. Here we learnt that roadside tyre exchange services in England are ridiculously expensive, so we ended up actually rolling the tire through the outskirts of central london for quite some miles – great fun (at least with Paddy). Anyway, long story short. It all worked out, we were at the ferry in time, and had a lovely journey to Switzerland visiting the EchoSoundSculpture Crew. Next was Amsterdam for some brief time with the wonderful pan building Dutchmen Jan and Ralf 🙂 and our favourite Italian-Australian, Adrian.
The next few month until Christmas were bound to be filled with busking and a bunch of lovely house concerts, which we always really enjoy. After Christmas and New Years in England, we started making home in Hau (close to Kleve), Germany, or as I usually say 'where the Rhine floats to the Netherlands'.
Highlights of the rest of the winter were an incredible concert with our dear friend Jonathan (Live at Van Heys Studio) ,our concert at the EchoSoundScuplture Workshop in Lenzburg Switzerland and again a series of really wonderful Living Room Concerts. England again for April (it rained, a lot!) but then spring on the mainland was coming and circumstance gave it that we were able to travel around northern germany and a bit of denmark in a van from end of may to end of june – hashtag 'Van Life' 🙂
As summer 2016 passed by we continued to play little concerts (the definitive highlight being a garden concert at Hot Roasted Love – check their coffee!), busk here and there and generally have good times 🙂 Main focus though was starting to record our next album. We're already pleased with what's done so far and are eagerly and with great joy working on more at this moment.
From mid August to early September our time was entirely determined by our main instruments and the lovely global community that has developed over the past 10 years. Starting off in Belgium at the little but oh so charming and warm 'Hang to Be', then flying to the Azores for the incredible, extraordinary 'Hang in Azores' (both gatherings organized by Maria Margerita from 'Quinta do Mundo'), to the 10th anniversary of the one and only, first ever original 'HangOutUK' made reality by the wonderful chaps Kelly Hutchinson and Rob Watkins.
These weeks were a blast – again we could only feel blessed to be around so many incredible personalities from all over… such warmth, fun, groove – simply LIFE. 
As it already is becoming a tradition (my third year in a row doing that exact move over the map of the UK) we stopped in Glastonbury (Torbz hooray 🙂 ) on our way to Wales, to meet and roam around in the countryside with one of my dearest friends Ed with his partner Sonja. Great times had again! So we (again) make our way to Sam's home Uttoxeter and Stoke-on-trent, spent time with family and the wonderful tribe of souls up there. And to make it an even fuller UK experience this time, we had to visit another dear dear lovely friend Rob Senior and his partner Hannah. If you don't know Rob's music, but you like what we do, go check his Album here! (exclamation mark here once actually used appropriate, 'cause this is a command 😉 )
So, the few people still following this post will be awarded with a little funny story (not so funny to me at the time…). To have a change on the (meanwhile boring) route back from England to Germany, we booked the ferry from Harwich to Hoek van Holland (the usual would be Dover to Dunkirk). To have less driving time we bared the higher price for the comfort of just arriving, especially since we had to play a gig in Holland that night.  Well, early morning, the ferry left at 9:00am and we had a good couple of hours drive ahead.
We make it right in time for boarding at 8:00am but unfortunately I drove us to Hull, which is a ferry port from which ferry's go to Holland yes, but the wrong one about 300km away from where we had to be – OOOOPS! We made the best of the day, went to the Sherwood Forest near Nottingham and played Robin Hood :D. (ever since seeing the Disney version of Robin Hood, as a kid, I wanted to visit that place, so after all – all good). Then took the Dover route after all (yawn).
So now, thanks for reading. I'm assuming at this point I've got one or two brave (and bored) people
still paying attention 🙂 Thank you guys, I'd be very glad to hear what you think of my rambling.
And since this was announced as a summary it is only right to assume the next posts will be nowhere near as excessive.
For so long, all the best and much love, Jaron.