The beginning of writing our Album.
Hey, Samantha here.
Following a busy time in Australia and Bali, we are now enjoying the peace and tranquility of Gili Air, Lombok. No cars, no motors, just the sounds of the ocean, the melodic voice of the Muezzin echoing through the Island, chanting frogs in rhythm and harmony accompanied by crying cats and geckos.
Australia had been a challenging yet incredible few months filled with synchronistic meetings and an abundance of manifestation, although we often had a feeling that each place we visited would lead us to a better place – a case of 'destination addition'. (Destination Addiction is a preoccupation that happiness is in the next place.)
However, once we let go and stopped trying so hard, we were lead to new amazing places that played vital significance with the process of recording our first album together. After playing a living room concert in Currumbin Waters, Gold Coast, Australia, a guy there intensely encouraged us to visit 'Ruah Rainforest Retreat' in Chillingham, only 45 minutes away.
So, the following day, we drove there. After the 5km uphill drive way (I drove as carefully as I could in our Toyota Camry ensuring we stay on the narrow road) we finally arrived to a beautiful building on the top of a mountain with the most breathtaking views – I was literally speechless, a rarity for me.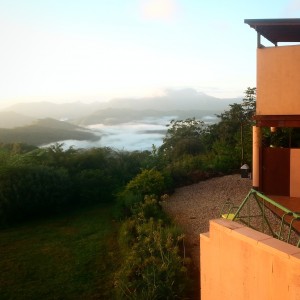 Although upon arrival it was not what we expected (we imagined a Buddhist retreat centre with yoga, workshops and lots of people) we were invited to stay.
This was the beginning of us writing Ko A La Ta Ki. Almost 2 weeks after staying at the top of mountain with the most spectacular views and surround sounds of the rainforest alive with nature, we meet Hollie – a true inspiration to young people. She openly invited us to stay at her family 'beach house' in Belongil, Byron Bay; naturally we go (notice a theme here?). We are welcomed not just to a beach house, but the Ultimate shack on the beach, 'Moondarah' on Childe's Street, in which we then write, together, some of the best music we have ever worked on.
Feeling 'ready', we take the 26 hour train ride (we sold our trusty Camry) with a brief stop off to visit our friends, Kira and Paul in Sydney to then arrive at Grooveboy Studio in Eltham, just outside of Melbourne, loaded with all of our things.
Album recorded, mixing done, thanks to Jeremy's perseverance and dedication to us, we are preparing to leave Australia for Ubud, Bali. A few concerts later and some great connections made in Ubud, the relaxation and calmness of Gili Air is just what the doctor ordered.
Now the ocean is inviting me in for a swim…